There are tons of great wedding venues in Indianapolis to choose from, but maybe you're looking for something a little smaller. And that's great, because chapel weddings come with their own special benefits.
Whether you're more vintage, woodsy, or glam, there are several options to choose from that honor Indianapolis's cultural heritage. Here are 5 historic wedding chapels in Indianapolis for the wedding of your dreams.
The Sanctuary on Penn
Of course, we're going to give ourselves a shoutout. Located in downtown Indianapolis and built in 1875, The Sanctuary On Penn is a historic chapel that has been delighting guests and creating dream weddings for over 140 years.
Our venue has a vintage feel that can fit up to 800 guests, and we will guide you through your perfect wedding with as much or as little interference as you'd like.
The Sanctuary on Penn has several spaces to keep you and your guests comfortable and design your ideal wedding aesthetic. Our spacious main halls and courtyards give you the option to have a bigger, dramatic reception, while our cocktail lounge and mezzanine give you the option for a quirky, more intimate party.
We also provide a salon and a bridal lounge so you can get ready calmy beforehand, and we even have a "cave" with a television set so you can relax.
Check out our website for a free brochure of one of the oldest wedding chapels in Indianapolis!
Looking at wedding venues?
Download Your Free Brochure
Laurel Hall
If you're looking for a historical, stress-free wedding, Laurel Hall is for you. The 1916, six acre property features gardens and lawns to fully take in on your special day.
Laurel Hall was built as the home to one of Indiana's wealthiest families. Over time it has played host to an all-girls school, a high-end housing development and a non-partisan government think tank.
If you're planning on having a large or even medium size wedding, this is the one for you. The venue offer outdoor and indoor areas for your event to take place. The venue offers outdoor ceremony, dining al fresco, yard games, and countless beautiful backdrops for photographs.
This venue has seen plenty of history since the building of it. Now, its your chance to take in your special day here at one of the best wedding chapels in Indianapolis.
The Garden Chapel
Just east of downtown Indianapolis is the beautiful Garden Chapel. While it's hosted over 70 weddings in the past two decades, this historic chapel has actually been around since 1898.
With its high ceilings and dramatic stained glass windows, this gorgeous white chapel offers the elegance of a church wedding without all the normal rules and regulations.
The newly renovated can seat up to 150 wedding guests (with tables and chairs included in the package). It also has space for an outdoor tent, dancefloor, a bar, and much more.
The Indianapolis Propylaeum
The Indianapolis Propylaeum is a stunning venue that knows how to get the "I do" done. The venue was once a home and now host 125 person wedding or gatherings. There are plenty amenities to take up here with bar areas, ready rooms, and overnight rooms.
This 16,000 square foot, antiqued furnished home is perfect for couples looking for a timeless place to tie the knot in Downtown Indianapolis.
The 1890 Victorian mansion is one of the best historical wedding chapels Indianapolis. There is a gorgeous wood grand staircase in the foyer to take those dreamy pictures that you desire on your wedding day. There will also be plenty of other places on the property to take any picture you could want.
White Willow Farms
Built in the 1940s', White Willow Farms is one of Indiana's oldest granaries, so you'll really be incorporating some history into your wedding day! The Barn is a beautiful outdoor wedding venue in Hamilton County, just 40 minutes outside Indianapolis.
This modern, boho wedding chapel features both a bridal suite, a groom's suite, outdoor church pews, and vintage antique furniture.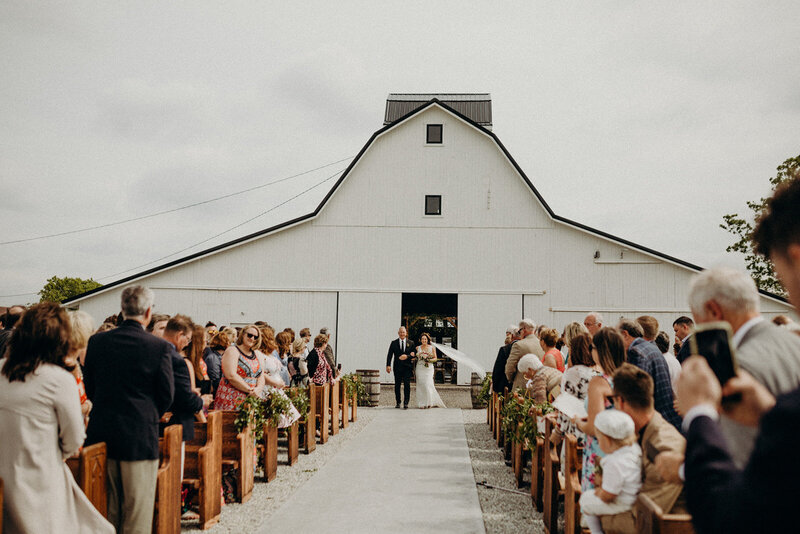 At White Willow Farms, you'll get the intimate rustic wedding of your dreams, and you'll even have some horses to serve as extra witnesses.
As you can see, there are some pretty gorgeous wedding chapels in Indianapolis to choose from that match the aesthetic of any wedding, so there's really no going wrong.
What's important is that you feel confident in your venue selection and that you feel supported in your wedding planning process. Luckily, with a venue as intimate as a wedding chapel, that's sure to be the case!